Presacral Neurectomy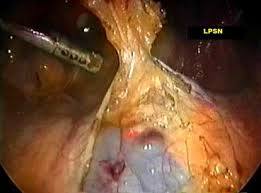 Presacral neurectomy or PSN is a surgical treatment that may be used for rare cases of severe dysmenorrhea that cannot be resolved by medications or other means. Essentially it involves cutting the nerves that transmit the signal of pain from the uterus to the brain. The procedure can be performed either by open abdominal surgery (laparotomy) or with minimally invasive laparoscopic surgery. Cutting these nerves does not affect sexual response, the ability to become pregnant or the ability to have a normal vaginal delivery. However, it does not provide relief for all women and should be considered a treatment of last resort for menstrual pain. It may cause chronic constipation and urinary problems as a consequence of destruction of nerve tissue.
The nerves coming from the uterus, which conduct pain signals, are interrupted or cut to prevent those signals from reaching the brain. Most studies suggest that PSN helps approximately 75% of the patients who have it performed. Most commonly, the results are immediate and last for many years. There have been some studies that suggest the nerves can grow back, but this cobweb-like group of nerves does not usually have a sheath along which they could grow back.
The removal of the nerves is performed in the area near the sacral promontory between the major blood vessels. This surgery must be performed carefully and meticulously in order to avoid injury to these vessels and the right ureter, which delineates the lateral border of the dissection for the PSN. We have performed countless of these procedures and have not had any injuries to the vessels where the presacral nerves or hypogastric plexus lies. Few gynecologists have training in PSN, however, and subsequently, most do not perform the procedure.
As with all surgery, there are some potential side effects that could occur, but these are uncommon, occurring in less than 5-10% of patients. They include constipation, which is usually mild and often improves over time or with dietary modification, and urinary complaints, that include urgency, which can usually be managed with timed voiding. Often, bladder urgency is improved, while about 5% may note a worsening of urgency, which can often be managed with timed voiding.
There is another procedure called the Laparoscopic Uterosacral Nerve Ablation, or LUNA, which has also been studied. This procedure involves cutting those nerves that run in the uterosacral nerve region, which lead to the superior hypogastric plexus that is removed during a PSN. Uterosacral ligaments that lie behind the uterus carry these nerves. However, the majority of the nerves actually lie adjacent to the ligaments and when a LUNA is performed, the nerves may not be completely transected. Most studies do not find as good, long-term relief following LUNA, and few find any significant relief beyond 6 months. Because of little long-term benefit, most endometriosis specialists or pelvic pain specialists do not perform LUNA any more.
References
Parker WH. A Gynecologist's Second Opinion. 2003; A Plume Book; Published by the Penguin Group, New York, NY.