Pelvic Organ Prolapse (POP) Treatment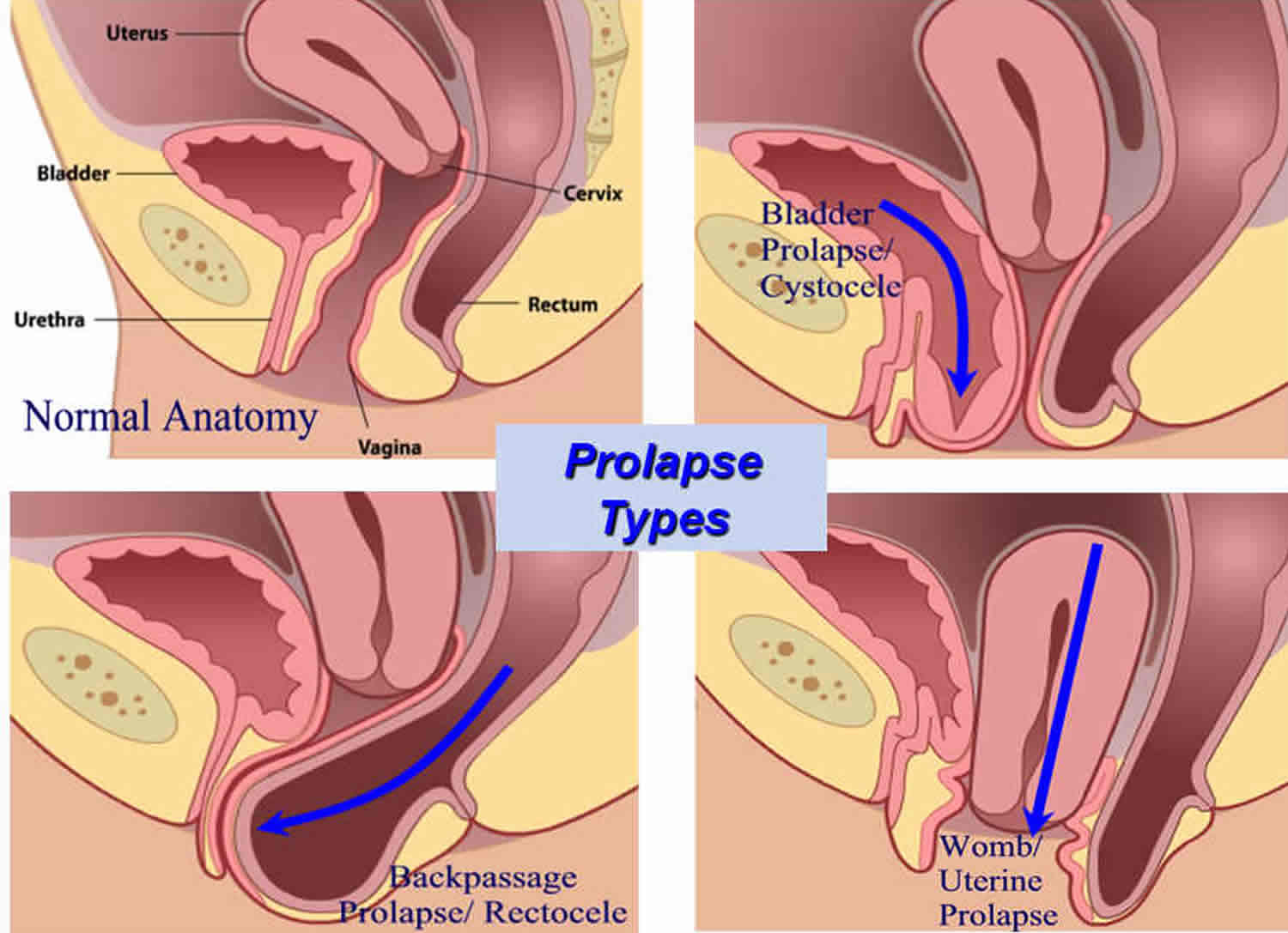 Women with mild POP that does not cause symptoms and is not bothersome do not need treatment. However, they may want to practice pelvic floor exercises as a preventative approach.
Non-surgical therapies
The most common non-surgical treatment for POP is wearing a pessary, a diaphragm-like device that is placed in the vagina to support the pelvic organs. In cases where the prolapse has reached the opening of the vagina or beyond, a properly fitted pessary can prevent further deterioration for many years. Pessaries are often a good option for women who still want to have children or those who are not good candidates for surgery.

Estrogen therapy is sometimes prescribed to prevent further weakening of the pelvic floor.
Finally, certain lifestyle changes can help ensure that you do not aggravate the condition any further. These include avoiding lifting heavy objects and successfully treating chronic coughing or chronic constipation and weight reduction for the obese.
Surgical approaches
There are numerous surgical techniques for pelvic floor repair to treat the different types of prolapse. The American College of Obstetricians and Gynecologist (ACOG) published clinical management guidelines in 2007 that review the current options and provide recommendations.
Prolapse repairs can be done through the vagina, abdominally or with minimally invasive laparoscopic techniques. During the procedure, the surgeon repositions the prolapsed organs and secures them to surrounding tissues and ligaments, sometimes using synthetic mesh like the material used in abdominal hernia repair. With the newer minimally invasive treatments, surgery time is reduced, recovery time is quicker, and many women can go home same or the next day. For information about surgical mesh, please click here to go to the the Food and Drug Administration website.
Laparoscopic surgery involves just a few tiny incisions of about ¼ inch, through which a rod-shaped telescopic camera and other long, narrow instruments are manipulated. The surgeon is guided by a magnified image on a video screen, which enables great precision and accuracy. However, not everyone is a candidate for laparoscopic surgery. Furthermore, some hospitals do not have the proper equipment, which is costly, and some surgeons do not have the specialized training needed to perform this type of surgery.
In cases of severe uterine prolapse,hysterectomy may be recommended. In fact, prolapse is the leading reason for hysterectomy in women over age 55 and the third leading reason for hysterectomy in all women. However, hysterectomy cannot correct the underlying cause of prolapse, which is the weakening of the pelvic muscles. Thus, there is a danger of recurrence involving some other organ.
Questions to ask your doctor about prolapse
What type of POP do I have? Do I have more than one type?
What kind of treatment do you recommend to treat my prolapse?
What is the success rate of this treatment? What are its risks and benefits?
Can you perform this procedure or should I be referred to a specialist?
How many patients with exactly my condition have you treated?
What are my options if I still want to have children?
Will this treatment affect my sexual function?
What is the typical recovery period for this treatment?
References
ACOG Bulletin: No. 79: Clinical Management Guidelines: Pelvic Organ Prolapse. 2007.
Brubaker L, et al. 3rd International Consultation on Continence: chapter 21: Surgery for Pelvic Organ Prolapse. 2004.
Jelovsek JE, et al. Pelvic organ prolapse. Lancet. 2007;369(9566):1027-38.
Lewin Group, Inc. Prevalence and treatment patterns of pelvic health disorders among U.S. women. National Women's Health Resource Center. 2007. www.healthywomen.org.
National Women's Health Resource Center, Inc. Your Guide to Uterine Health. 2003; www.healthywomen.org.
Paraiso MF, et al. Laparoscopic and abdominal sacral colpopexies: a comparative cohort study. Am J Obstet Gynecol 2005;192(5):1752-58.
Paraiso MF, et al. Laparoscopic Burch Colposuspension Versus Tension-Free Vaginal Tape: A Randomized Trial. Obstet & Gynecol. 2004;104:1249-58.
Trowbridge ER, et al. Conservative management of pelvic organ prolapse. Clin Obstet Gynecol. 2005;48(3):668-81.
What's Happening Down There? Let's Talk About Prolapse. www.BeatProlapse.com.